The original barns for sale website as featured in The Independent newspaper, The Daily Telegraph, The Daily Mail, The Guardian, The Times, Horse & Hound, French Property News, Build It, Kent On Sunday, Homes & Gardens, Grazia and Channel 4.com.

Welcome to Barnsetc. If you are looking to buy a converted or unconverted barn or if you have a barn for sale - in the UK or abroad - you have come to the right place!

The main focus of Barnsetc is to provide a forum to buy and sell barn conversions and unconverted barns, but we are also more than happy to accept listings for other agricultural and rural buildings - such as windmills, mill houses, water mills, oast houses, stables, coach houses and church conversions.



Last five properties added
A Grade II listed house with barns for conversion in Merstone on the Isle of Wight
Guide price for the whole £1,695,000 (house also available separately)
details and photos
A farmhouse with land in Tushingham on the Cheshire / Shropshire border
Price £575,000 (house available on its own for £475,000)
details and photos
Four bedroom character barn conversion in Great Eccleston, Poulton-le-Fylde, Lancashire
Offers in the region of £450,000
details and photos
A partly renovated barn with planning permission for conversion / build into four houses near Congleton, Cheshire
Offers in the region of £825,000
details and photos
Box framed Normandy longhouse without land
Offers in the region of £24,000 (or £6,000 if dismantled and removed by the buyer)
details and photos
Sell your barn with Barns Etc
Barnsetc is the number one website in the UK for the buying and selling of barns with over 300,000 unique visitors every year (over 17 million hits for those who count in hits!).

If you are a private seller and have a barn for sale, selling your barn is as easy as 1-2-3! One flat fee of £89 until sold or withdrawn gets you a unique web page with up to five photos to advertise your details. No commission! No hidden extras!

List your property today!

If you are a seller who has instructed an estate agent, you can still list your property with Barnsetc. If you have signed a "sole agency" agreement, you are still entitled to sell your property privately - and selling your property via Barnsetc counts as a private sale! If you have signed a "sole selling rights" contract, your agent would still be due their commission on any sale resulting from a listing on this website, so they may be willing to pay for your listing.

If you are an estate agent with a barn conversion or similar property on your books, help your client find a buyer by listing with Barnsetc. With thousands of potential buyers visiting this website every month, many of whom are looking to relocate for the perfect property, a listing here is often far more effective than an ad in your local newspaper, not least because it stays live until sold or withdrawn. An increasing number of estate agents use Barnsetc because it gets results!

And if you are a developer with more than one barn conversion on the same site, we offer multiple listings that represent fantastic value for money. Two properties on the same listing is just £129 while three or more properties on the same listing costs £149.

Click here to list your barn now!

Still not convinced? Have a look at our testimonials page to see what the people who we have helped sell their barn have to say!


Latest Entries In The Trade And Services Directory

Bowhill Planning Partnership - Planning Consultants

Flue Cube LLP - Fires, Stoves And Fireplaces

Development Finance - Funding and Mortgages

The Classic Barn Company - Oak Frames

Downton Construction Ltd - Builders

Stylish Stoves Of Kent - Fires, Stoves And Fireplaces

Quoterack - Insurance

Midlands Precision Cleaning - Blast Cleaning

Decadet - Surveyors

David Ash - Project Management

New Roman Roofers - Roofers

DTS Property Developers - Builder

UK Oak Doors

Castell Renovations - Builders


Churches And Chapels For Sale
The latest addition to the Barnsetc brand is ChurchConversions, a site that specialises in converted churches and chapels and those in need of restoration. For a limited time, all church / chapel listings on Barnsetc will also get a free listing over at ChurchConversions! Click on link www.churchconversions.co.uk to visit the website.

Selling An Oast House?
Barnsetc is pleased to announce the launch of a new website dedicated to the buying and selling of oast houses. For a limited time anyone listing an oast house with Barnsetc, will also get a free listing over at OastHouses
(www.oasthouses.co.uk).

Barns For Sale In France
Barnsetc has another sister site, BarnsinFrance, which specialises in barns for sale in France. It is now up and running at www.barnsinfrance.co.uk. Anyone listing their French barn with Barnsetc will get a free listing over at BarnsinFrance

Scottish Steadings For Sale
Announcing the latest arrival to the Barnsetc stable. SteadingsForSale specialises in barns and steadings for sale in Scotland. All Scottish listings on Barnsetc will get a free listing over at SteadingsForSale! Click on link www.steadingsforsale.co.uk to visit the website.


Self-Build And Design Magazine - The Next Twelve Issues Delivered To Your Door For Just £34.99
Building your own home, converting a current property or modernising an older dwelling is the perfect way to achieve the home of your dreams. SelfBuild & Design brings you expert advice, the latest products and inspirational case studies to help you make that dream home a reality. Subscribe to SelfBuild & Design today and get twelve issues for just £34.99! That's a saving of 31% off the usual cover price. Click here for full details.


"The best £89 I have ever spent."
J. Saunders, West Midlands

"Another success for Barns etc - third sale with you in less than 10 years!"
N. Smith, Cambridgeshire

List your barn or unique property on the BarnsEtc website for just £89 until sold or withdrawn. No commission! No hidden extras! more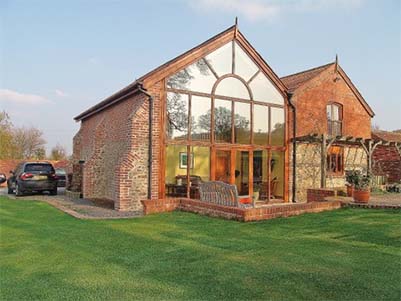 barnsetc property of the month
Four bedroom barn conversion near Wellington, Somerset
Price £525,000
A stone and brick built four bedroom barn, converted to a high specification and set in 0.4 acres of landscaped gardens in a rural location close to the Somerset village of Wellington
details and more photos
barns for sale in England

East of England
(including Lincolnshire, East Anglia, Norfolk, Suffolk, Cambridgeshire)

East Midlands
(including Nottinghamshire, Derbyshire, Leicestershire, Rutland, Northamptonshire)



North East England
(including Berwickshire, Durham, Northumberland, Humberside and Yorkshire)

North West England
(including Cumbria, Cheshire, Greater Manchester, Merseyside and Lancashire)

South of England
(including Kent, Oxfordshire, West Sussex, East Sussex, Greater London, Buckinghamshire, Hampshire, Hertfordshire, Isle Of Wight, Berkshire, Essex, Bedfordshire and Surrey)

West Midlands
(including Herefordshire, Staffordshire, Warwickshire, Shropshire, Birmingham and Worcestershire)

West Country
(including Devon, Cornwall, Dorset, Gloucestershire, Wiltshire and Somerset)

barns to let

Barns to let
Barn conversions for rent and to let

new barn rental listing!

unconverted barns

Unconverted barns
Barns for conversion

barn frames for sale

Frames
Barns for sale without land

new barn frame listing!

Selling a stone or timber framed barn?

List it on the UK's number one barn website for a flat fee of £89 until sold. Every property listed has its own unique webpage with up to five photos. Click here to add your barn today!

search by map


barns for sale in Scotland



East Scotland
(including Edinburgh, East Lothian, West Lothian, Fife, Kinross, Kincardineshire, Angus, Clackmannanshire, Kinross-shire, Perthshire)

North Scotland
(including The Highlands and Islands, Moray, Caithness, Sutherland, Inverness-shire, Aberdeenshire, Banffshire, Nairnshire, Ross and Cromarty, Orkney and Shetland)

South Scotland
(including Dumfriesshire, Dumfries And Galloway, Kircudbrightshire, Wigtownshire, The Borders, Berwickshire, Roxburghshire, Selkirkshire, Peebleshire)

West Scotland
(including Glasgow, Strathclyde, Ayrshire, Lanarkshire, Renfrewshire, Stirlingshire, Dunbartonshire, Argyll and Bute)

barns for sale in Wales

Wales
(including Blaenau Gwent, Bridgend, Caerphilly, Cardiff, Carmarthenshire, Ceredigion, Conwy, Denbighshire, Flintshire, Gwynedd, Anglesey, Merthyr Tydfil, Monmouthshire, Neath, Port Talbot, Newport, Pembrokeshire, Powys, Rhondda Cynon Taff, Swansea, Torfaen, Vale of Glamorgan and Wrexham

barns for sale in Ireland

Northern Ireland
Eire

barns for sale overseas

Abroad
(including France, Spain, Ireland, USA)



NEW! Search by county

Quick Reference Complete Barns For Sale List