Oast houses for sale
Oast house conversions for sale in Kent and Sussex
We currently have no oast houses listed for sale. If you're looking for an oast house, please check back soon.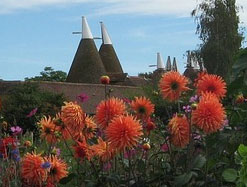 Your oast house for sale, East Sussex £895,000
Are you selling a converted oast house or do you have an oast house for conversion that is for sale?
Whether you're a private seller or an estate agent, list it here!
We don't just sell barns. We sell all unique properties, including oast houses!
And we like to keep things simple. Advertised until sold. No monthly fees. No commission to pay. Amazing customer support. All for just £89.00!

Click here to list your oast house today!

Here are some of the oast houses you've missed
A converted oast house for sale in Sandwich, Kent
SOLD
A spacious, five bedroom oast house conversion in the historic Kent town of Sandwich with many original features, including a working cowl. This light and airy oast has flexible accommodation and a secluded courtyard garden
details and more photos
A three / four bedroom converted oast house near Faversham, Kent
SOLD
An unlisted three / four bedroom twin tower converted oast house, with adjacent new-build offices, set in three acres of land on the edge of the Kent town of Faversham, with good road and rail links nearby
details and photos
Converted oasthouse with holiday cottage near Maidstone, Kent
SOLD
A traditional Kentish converted oasthouse for sale with spacious and flexible accommodation, an additional separate holiday cottage and an internal apartment, set in approx. 0.75 acres of land in Linton near Maidstone in Kent
details and photos
A converted oast house with self contained annexe near Maidstone, Kent
SOLD
A square kiln oast conversion with a total of seven bedrooms. The property has a granny annexe, an office and a 0.6 acre paddock and is located in the Kent village of West Farleigh, close to Maidstone with its mainline train links to London
details and photos
Oast house conversion for sale near Maidstone in Kent
SOLD
Converted two roundel oasthouse with four bedrooms for sale near Maidstone, Kent
details and photos
Oast house with a range of farm buildings near Maidstone, Kent
SOLD
Substantial oasthouse for conversion with a range of farm buildings situated between Maidstone and West Malling, Kent
details and photos
Four bedroom twin kiln oast house conversion near Piltdown in East Sussex
SOLD
Four bedroom Grade II listed converted twin kiln oast house set in landscaped gardens in a rural location near Piltdown and Lewes, Sussex, half an hour from Brighton and with easy access to mainline trains to London
details and more photos
All about oast houses

The steep, pyramid-shaped roofs and curvaceous roundels of oast houses are a traditional and much-loved part of the landscape in Kent, East Sussex and West Sussex. Although much less common, oast houses are also be found in other hop-growing and former hop-growing areas such as Hampshire, Surrey, Worcestershire, Herefordshire and Gloucestershire. There are even examples in the north of England, Scotland, Europe and as far away as Australia.

Oast houses first appeared in England in the 16th century, though most of the surviving examples are from the 18th and 19th centuries. Traditional oasts constructed in this later period normally have two to three drying floors and between one and eight kilns. The kilns could be circular, square, rectangular or octagonal. Materials used in the construction included timber, bricks, ragstone and sandstone. Traditional cladding could be timber weatherboards or corrugated iron.

Oast houses were used to dry hops as part of the brewing process. The green hops were spread out on drying floors within the kiln. These floors were thin and perforated to allow hot air from a wood or charcoal fire at the bottom of the kiln to pass through. The distinctive cowls at the top of the oast towers controlled the airflow and ensured that a good draught was created to keep the fires going.

As the hop-picking process became more mechanised, many oasts fell into disuse. Some were demolished, others became derelict. However, with increasing demand for housing, many oasts were converted into houses. One of the earliest examples was an oast at Meopham Green which was converted in 1903. Since then, the attraction of living in a property with such distinct character has seen many oast houses have been converted for residential use.

Finding an unconverted one has become increasingly difficult. In fact, such is their popularity, there are "oast houses" which have never had an agricultural past at all. They are new builds built in the style of a traditional kiln and oast. There are even companies which specialise in the construction of bespoke oast cowls - an item that would have no functional use in agriculture today.