Barn conversions and other unique properties for sale in Ceredigion, Wales

We currently have no properties listed for sale in Ceredigion. If you're looking for one check back soon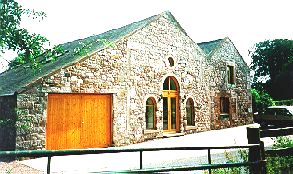 Your property, Anywhere £250,000
Your property could be here! All properties listed are featured on the area home page for the region that your unique property is in, and also the county page! Each listing gets their own unique web page too! Click here to get listed today!
Detached barn with planning permission for conversion, in Adpar near Newcastle Emlyn, Ceredigion
SOLD
A detached barn with detailed planning permission for conversion to a two bedroom property with double garage, located in Adpar and enjoying panoramic views over the Teifi Valley and the market town of Newcastle Emlyn
details and photos
Stone farm house with a barn and former milking parlour, all in need of renovation and with planning permission, in Capel Ivan near Newcastle Emlyn
SOLD
Stone farm house for renovation (full planning permission granted for residential use) plus an unconverted barn and a former milking parlour (both benefitting from full planning permission for conversion into holiday homes) set around a court yard on three acres of land in the Capel Ivan area near Newcastle Emlyn in Carmarthenshire, West Wales
details and photos
Four bedroom barn conversion in the foothills of the Cambrian Mountains in Cellan near Lampeter, West Wales
SOLD
Four bedroom two bathroom barn conversion in the peaceful foothills of the Cambrian Mountains in the village of Cellan near the university town of Lampeter, Ceredigion, Wales
details and photos

It costs only £89 to list your property on barns etc until sold. Don't miss out on this fantastic offer
click here to list your property today.
Barns and other unique property for sale in Aberaeron, Aberporth, Aberystwyth, Cardigan, Lampeter, Llandysul, Llangrannog, New Quay and Tregaron