Builders
Vernacular Homes

The Spinney,Susans Hill, Woodchurch, Kent, TN26 3TE
Phone: 01233861177
Website: www.vernacularhomes.com

Vernacular Homes deals with all the steps required to build, convert, extend or renovate a residential property in Kent, East Sussex and parts of Surrey.
We design and build new houses, barn conversions, large extensions and period restorations according to client specifications.




Castell Renovations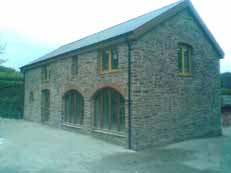 5 Mount Pleasant, Tremont Rd, Llandrindod Wells, LD1 5BG
Phone: 0800 8247570
Email: terry@castell-renovations.co.uk

Castell Renovations specialise in barn conversions and house renovation.
Castell has 30 years experience in conservation of listed buildings so are able to offer a complete range of services including
· Barn conversion
· Underpinning and stabilisation
· Modern and traditional roofing
· Lime mortar construction and renovation
· Restoration of historic structural timber
· Reproduction timber and stonework
When it is essential to meet stringent planning and conservation requirements Castell will undertake the project from design and planning through to completion.
Castell use fully qualified staff so you can be fully confident that your project will be on time in budget and of the highest quality.
Complete or part projects undertaken throughout the UK





If you would like to be listed in the Barnsetc Trade And Services Directory please click here for further information.
Barns Etc Trade & Services Directory




If you offer products or services that will be of interest to owners of barn conversions or those undertaking the conversion or renovation of a property you are invited to list with The Barn Trade And Services Directory.

The Barnsetc Trade And Services Directory seeks to offer barn owners the opportuinity to deal direct with companies and individuals who are actively seeking to provide products and services to this specialist market where high standards are expected.

The Barnsetc Trade And Services Directory is divided into categories and you can list your business in any one for just £19.99 a year (if you don't see a category that is suitable we will consider adding it).

To get listed today click here