The pros and cons of converting a barn
What you should know before you start a barn conversion project
Barn conversions are much sought after in the UK. Incredibly, despite their popularity, there are still a few unconverted barns and redundant farm buildings out there just waiting to be transformed.
Some are unconverted as they are simply still in use. Others may have been overlooked perhaps due to degree of decay or may have any number of other issues that have deterred their sale.
But with prices high, more and more are being added to the market all the time so there are always opportunities out there for those who have a passion for creating a unique home.
Converting a barn is in many ways very similar to a complete new build
There are the same steps to go through, such as applying for planning permission (if needed), arranging for surveys and employing an architect or designer to create a home suitable for your needs. Then the build itself with builders and trades to be organised, services to be connected, and finally finishes and landscaping.
However, the big difference is that with a barn you won't have a blank canvas and having a basic structure to work with has both pros and cons.
The pros of renovating an unconverted barn
Their relative rarity, abundant character and the fact that they are all completely different, makes barn conversions wonderful spaces in which to live.
Posterity
The renovation of an often centuries old barn, will give you the sense of satisfaction that you have been instrumental in preserving your building for the next phase of its life.
Unique
For those who think outside the box and don't wish to live in a cookie cutter house, a barn conversion is the ultimate in a unique, character property.
Design
By converting your own barn you have the opportunity of designing a contemporary property that benefits from period / historical and / or agricultural style elements. You can create a space that works for you, choose your fixtures and fittings and finish it to exactly your own taste.
Buying an established house won't give you that option and you'll be paying for second hand kitchens and bathrooms, old heating systems and appliances and someone else's taste. Many owners will have to embark on an expensive upgrade of the property.
With a conversion project you'll get a brand new property. So less maintenance, repairs and updates (at least for a few years anyway).
House in the country
Barns are often to be found in wonderful rural locations, sometimes with great views or an acre or so of land. Some planning authorities will not allow new build properties in an Area of Outstanding Natural Beauty or National Park for instance, but will look more favourably on the development and preservation of existing buildings such as redundant agricultural structures. A conversion may be the only route you have for building your own home in these areas.
Know your house
If you undertake a barn conversion, even if you are hands off, you'll still know the workings of your property far better than if it were just a purchase.
Space
Barns lend themselves well to open plan living with airy spaces with the potential for vaulted ceilings. Stunning to look at and to live in.
Financial reward
Not a given, especially if you have a problem project, but as they are incredibly desirable to own, a well executed barn conversion can be a great investment.
The cons and potential pitfalls of converting a barn
On the downside, if you think that by having four walls and a roof that you're more or less halfway there, then you may be in for a surprise.
Cost
It's pretty rare for any self build to go seemlessly and a conversion brings a whole host of extra potential problems. Barns were never constructed for habitation (livestock excepted) and although some are in excellent condition others will require a lot of work before you can begin to think about moving in. It is important you get as much detail and information before you start.
Location
Many barns are in remote locations with accessability issues. Others are located in farmyard settings, sometimes with other conversions very close by which can compromise views and privacy.
Legal small print
Check the legal documents for easements and covenants over the property.
Expensive to run
This is not generally an issue if done correctly as modern materials and technology make heating large vaulted areas far easier than early examples of barn conversions. Underfloor heating can be a great way to inexpensively heat a barn conversion.
Planning
Thanks to new permitted development rights, if you meet all the criteria then although you have to notify the planning department, certain building works and changes of use can be carried out without needing to obtain planning permission from the local planning authority.
But if your barn is listed, in an area of natural beauty, national park or conservation area then you have to get permission. Most planning departments are great with helpful people who do a great job, but you might be unlucky and have to deal with one that will hold up your build, nitpicking over the smallest details. It's always better to work with planning officers rather than against them as they can contribute a great deal to the successful completion of a project.
Design
Designing your living space within the confines of what you have to work with can be challenging. There may be some disparity between size of the living and bedroom accommodation. You must ensure that what you need is achievable and that your renovation is sympathetic to the building and surrounding area.
Services
Services will need to be installed which can be problematic in remote areas. Rights of access to connection and easements may need to be obtained and you may need to consider alternate forms of services such as a septic tank, water pump or generator / solar panels.
Structure
Many barns have no proper foundations and underpinning may be necessary. Floors may require to be lowered for headroom, damp proofing and insulation.
Then there's the barn itself. Stone built walls may be unstable. Worse case scenario, they may need to be rebuilt but best case they'll require to be cleaned (if on display) and repointed and a damp proof course may be required. Brick built barns may have crumbling bricks to contend with. Window and door openings may need to be created (if allowed) and existing ones will need bespoke doors and windows to fit them.
Timbers (frames, walls and roof) may need replaced or sprayed in order to preserve them. Again those on display may require cleaning to maximise their aesthetic appearance. The roof may also need to be mended or replaced. And keep your fingers crossed there are no bats currently in residence as that can cause major delays in renovation.
Materials
Finding specific materials may be difficult. Having to source items that match the original can be like looking for a needle in a haystack. Planners may specify a particular (generally expensive) material that they want you to use. And then, you may have problem materials such as asbestos to deal with.
Access
Access problems can be another headache. Barns can be located in remote locations, with very poor access tracks which may be impassable in bad weather. Laying a proper road surface is very expensive.
Redundant farm buildings may be set at the end of a narrow lane, unsuitable for larger vehicles which affects everything from having materials delivered to your removal van not getting to the front door when you're moving in at the end.
Look before you leap
Many of these problems are not deal breakers but it's easy to see how quickly costs can mount before you even begin to think of finishes. Forewarned is forearmed as they say and unless you've an unlimited budget, oodles of enthusiasm and a passion for historical restoration, you may want to be choosy about what you take on.
Not put off? Have a look at the
unconverted barns for sale
on Barns Etc
Tweet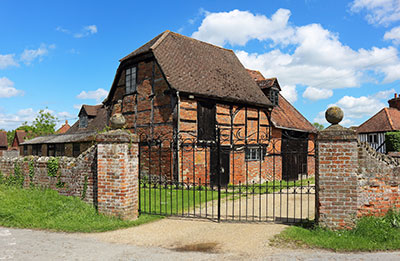 Advertise your property on barnsetc today!
Estate agents
If you are an
estate agent
with a barn conversion or similar property on your books, help your client find a buyer by listing with
barnsetc
. With thousands of potential buyers visiting this website every month, many of whom are looking to relocate for the perfect property, a listing here is often far more effective than an ad in your local newspaper, not least because it stays live until sold or withdrawn. An increasing number of estate agents use
barnsetc
because it gets results!
We also offer estate agents up to 30 barn listings over a 12 month period for a one-off payment of just £749. No monthly fees. All properties listed until sold. Limited time offer!
Developers
And if you are a
developer
with more than one barn conversion or property on the same site, we offer multiple listings that represent fantastic value for money.
Private sellers
If you are a
private seller
and have a barn or similar unique property for sale, selling your barn is as easy as 1-2-3! One flat fee of £129 until sold or withdrawn gets you a unique web page with up to five photos to advertise your details. No commission! No hidden extras!
If you are a
seller who has instructed an estate agent
, you can still list your property with
barnsetc
. If you have signed a "sole agency" agreement, you are still entitled to sell your property privately - and selling your property via
barnsetc
counts as a private sale! If you have signed a "sole selling rights" contract, your agent would still be due their commission on any sale resulting from a listing on this website, so they may be willing to pay for your listing.
Still not convinced? Have a look at our
testimonials page
to see what the people who we have helped sell their property have to say!