Do you need planning permission to convert a barn?
What is the difference between planning permission and permitted development rights?
The government announced changes to planning regulations in 2014 as part of a reform programme to build new homes across the country. These include the right to make changes of use of redundant agricultural buildings to residential properties under Permitted Development Rights (PDR).
If you meet the required criteria of the Class Q permitted development rules, you will no longer have to go through the conventional planning permission procedure in order to convert a barn.
Permitted Development
If your barn meets the conditions required, you must still submit an application to your local authority for prior approval before any work is started. The floor plans, proposed use of rooms, elevations, natural light assessment, and dimensions of walls, doors and windows, must still be approved before any work is started.
Pros of permitted development
• Permitted Development can simplify the process by speeding up the time taken for approval.
• Approval is via a series of requirements and does not rely on the subjective views of planning officers.
• Planning permission guidelines regulate against new property builds in open countryside or on agricultural land. By using Class Q PDR there is a loophole which allows the conversion of an existing agricultural building in these sought-after areas.
• As you don't have to comply with local planning policy and guidance, you will have more freedom in your design.
• An application via this route requires less supporting documentation than conventional planning so there is less red tape.
• It's cheaper than going via the conventional planning route.
• In the past, there were problems with some local authorities interpreting the rules differently which led to a third of all applications being denied. Further updates to the legislation now require councils to start from the premise that under PDR the planning permission is granted. It has been made clear that factors such as exceptional design or whether the property is for a rural worker, are not reasons for refusal.
Cons of permitted development
• Permitted development rights rules can be complex and frustrating to navigate.
• There are very specific conditions that you must meet and if you don't adequately meet all the criteria then the application will be rejected.
• The guidelines can be restrictive so it may be easier to get exactly what you want in your design via a conventional application.
Prior approval
Prior approval is the formal submission you make to your local planning authority requesting their approval in permitting certain aspects of a development. You will need written notice that they accept these parts of the project before work can commence. If conditions are set, they must be followed, and work must start within three years of the date on the approval letter.
Prior approval addresses concerns over flood risk, highway access, contamination or noise concerns. There may also be circumstances where the location makes conversion impractical or where the surrounding area may be negatively impacted. They may also want to approve the design and in particular, the external appearance (walls, roofs, windows, doors and materials).
If prior approval is not needed, you will still need this stated in writing by the council before you can begin work. But if you don't receive any notification within eight weeks, you can begin work regardless.
Criteria to qualify for PDR
• The barn must have been in existence before 20th March 2013 and established for at least 10 years prior to this date.
• It can't be situated in a National Park, an Area of Outstanding Natural Beauty (AONB), a conservation area, the Broads, World Heritage Sites or sites of special scientific interest.
• Listed buildings are excluded as are sites with a scheduled ancient monument.
• The building must be structurally sound.
• It must retain its agricultural character with minimum external changes.
Planning permission
If your barn does not meet the Class Q Permitted Development Rights criteria (main points listed above) you will have to submit a full planning application with all supporting evidence to the Local Authority.
Your application must be scrupulously prepared to ensure that the character of the conversion is in keeping with the original building and its surroundings. The more supporting evidence you can provide to the planning department in favour of your project, the better.
If you can show that you want to do justice to the conversion of a centuries-old building, and will preserve it sensitively with respect for the opportunity it presents, then you're more likely to be successful.
Every case is different and it's worth chatting to the planning officer about what level of restrictions you are likely to face. Planning officers are often given a bad name due to a few individuals that want to make life difficult with requests that involve time and expense for no great benefit. The truth is that the vast majority are dedicated to protecting old buildings, especially those in protected areas.
By having a well respected local architect, builder or structural engineer on board, the planning department may be more inclined to look favourably on your application. And if you foresee issues, then a planning consultant may be required to help negotiate an approval.
Tweet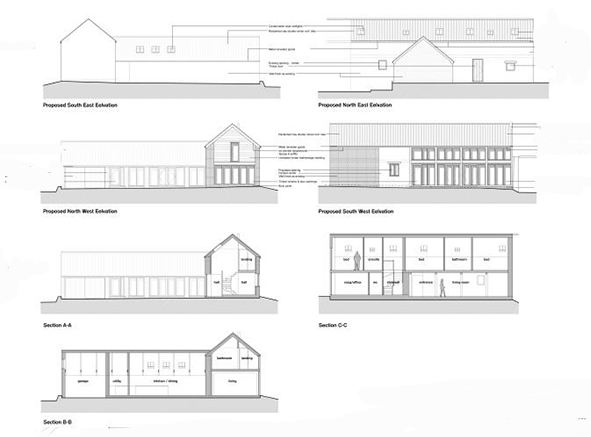 Advertise your property on barnsetc today!
Estate agents
If you are an
estate agent
with a barn conversion or similar property on your books, help your client find a buyer by listing with
barnsetc
. With thousands of potential buyers visiting this website every month, many of whom are looking to relocate for the perfect property, a listing here is often far more effective than an ad in your local newspaper, not least because it stays live until sold or withdrawn. An increasing number of estate agents use
barnsetc
because it gets results!
We also offer estate agents up to 30 barn listings over a 12 month period for a one-off payment of just £749. No monthly fees. All properties listed until sold. Limited time offer!
Developers
And if you are a
developer
with more than one barn conversion or property on the same site, we offer multiple listings that represent fantastic value for money.
Private sellers
If you are a
private seller
and have a barn or similar unique property for sale, selling your barn is as easy as 1-2-3! One flat fee of £129 until sold or withdrawn gets you a unique web page with up to five photos to advertise your details. No commission! No hidden extras!
If you are a
seller who has instructed an estate agent
, you can still list your property with
barnsetc
. If you have signed a "sole agency" agreement, you are still entitled to sell your property privately - and selling your property via
barnsetc
counts as a private sale! If you have signed a "sole selling rights" contract, your agent would still be due their commission on any sale resulting from a listing on this website, so they may be willing to pay for your listing.
Still not convinced? Have a look at our
testimonials page
to see what the people who we have helped sell their property have to say!