How to design a barn conversion
Tips and ideas on creating the best design for your property renovation
When we imagine the ideal barn conversion, we think of a modern and spacious, eco friendly home within a characterful building which blends seamlessly into the surrounding countryside. Elements such as an airy, light filled double height living space with oversized barn door windows, vaulted ceilings, galleried landings, exposed stone, brick and beams and original features are all part of what makes them so desirable.
By taking on the renovation of a historical and unique building, you have the responsibility to ensure that the work to take it into the next phase of its life, is done well. And the key to that is good design.
Architects role in barn conversions
An architect with experience in renovating old buildings will be able to advise you on the best use of the space you have whilst also accommodating your personal requirements in a home. They are experts at problem solving and managing all the different elements of a project, bringing everything together in the best way to create the bespoke, comfortable house of your dreams.
A sympathetic conversion doesn't have to mean a farmhouse style renovation. Increasingly popular are the ultra contemporary conversions where sleek and cutting edge meets rustic and old. A good architect will give you options for your budget and push you to be innovative but should never take you out your comfort zone.
Bad barn design
With a barn conversion you have the perfect opportunity for open plan living spaces. There is nothing more disappointing than a conversion that has a series of compartmentalised, poorly lit boxy rooms inside. Back in the 1960's and 1970's barns were so inexpensive to buy that they were often bought by people who would really have rather lived in a modern house. And they converted them accordingly.
When these barns come on the market, they generally require major work to rectify the errors of the past, but as these were the first to be renovated, what they lack in style they make up for in other areas, in particular location and setting.
Key design points for a successful barn conversion
Barn conversion layout
The layout is largely dictated by the space you have and the existing window and door openings. If planning policy doesn't allow for any changes to the elevations, you will need to be clever with design to ensure that all the rooms you have get enough natural light from existing openings. Successfully dealing with issues can even result in them becoming assets.
Planners may be less stringent about elevations that are not visible from the road, so you may be allowed to add windows to the other side of the barn or add roof lights. You can further minimise their appearance by setting them back into the wall or by using dark frames.
First floor spaces in barn conversions
Adding a first floor will virtually double your living area so is worth doing if possible. If the vertical space is tight, you may need to dig down in order to get sufficient head height.
If you have far reaching views, you may want to consider having the living accommodation on the first floor rather than the ground floor.
Double height cart doors should ideally not be split by a first floor. A suspended walkway linking the two sides of a first floor is a far better option, allowing you to benefit from lofty living areas and little compromise on the upper level floor space. A great statement in a voluminous space is a feature staircase.
Zoning a barn conversion layout
The sheer scale of a barn may make it feel just too big. Too little furniture and it can look sparsely furnished, too much and it looks like a furniture showroom.
A solution with large spaces is to zone areas, with techniques such as differening floor heights to create interest and boundaries. Bookcases, shelves and even rugs can be used to partly define spaces. It is important that if you have a large area, that you try to create 3D volume by having as much vertical height as you can.
Vaulted ceilings add a feeling of grandeur and if the double height area is in the centre of the space with a first floor on either side, the single height spaces below will have a cosier feel.
Heating a barn conversion
Heating large cavernous spaces can be expensive. It's easy to add underfloor heating and other environmentally friendly products when you're starting from scratch but very disruptive to do so retrospectively.
The more eco features you incorporate in the design, the better. They will be beneficial in terms of not just comfort but also will save you money for years to come.
Barn character features
Beams should be celebrated, not covered or painted. Oiling them will bring out the natural beauty and they can be dramatised even further with good lighting techniques.
Exposed stone and brickwork is a great feature to retain, particularly with internal cross walls. External walls can also be left exposed but as there will have no insulation, there will be a loss of heat from the building.
Problem solving
Barns come in all shapes and sizes and in all different settings and not all barns fit the ideal completely. But that does not mean they can't make wonderful conversions.
Occasionally, a property will require separate buildings to be joined together in order to create a single dwelling. A glazed link is a great way to keep the identities of the two structures distinct.
Some barns are composed of just three walls and a roof which is great for light but can be a challenge to adequately support the roof. Others are partly subterranean or built with unconventional materials. There are many and varied issues to deal with. But if tackled correctly, rather than detract from the result, these unique differences could actually work to your advantage and become one of the major assets of your home.
Tweet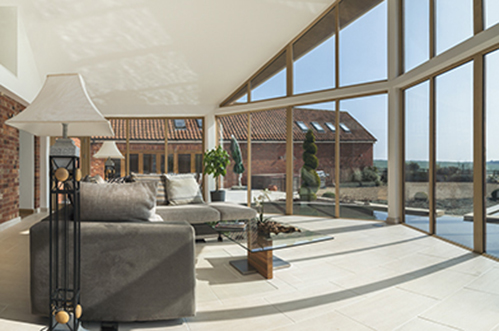 Advertise your property on barnsetc today!
Estate agents
If you are an
estate agent
with a barn conversion or similar property on your books, help your client find a buyer by listing with
barnsetc
. With thousands of potential buyers visiting this website every month, many of whom are looking to relocate for the perfect property, a listing here is often far more effective than an ad in your local newspaper, not least because it stays live until sold or withdrawn. An increasing number of estate agents use
barnsetc
because it gets results!
We also offer estate agents up to 30 barn listings over a 12 month period for a one-off payment of just £749. No monthly fees. All properties listed until sold. Limited time offer!
Developers
And if you are a
developer
with more than one barn conversion or property on the same site, we offer multiple listings that represent fantastic value for money.
Private sellers
If you are a
private seller
and have a barn or similar unique property for sale, selling your barn is as easy as 1-2-3! One flat fee of £129 until sold or withdrawn gets you a unique web page with up to five photos to advertise your details. No commission! No hidden extras!
If you are a
seller who has instructed an estate agent
, you can still list your property with
barnsetc
. If you have signed a "sole agency" agreement, you are still entitled to sell your property privately - and selling your property via
barnsetc
counts as a private sale! If you have signed a "sole selling rights" contract, your agent would still be due their commission on any sale resulting from a listing on this website, so they may be willing to pay for your listing.
Still not convinced? Have a look at our
testimonials page
to see what the people who we have helped sell their property have to say!