new barn conversion
for sale
Mathry, near Haverfordwest, North Pembrokeshire
Five bedroom barn conversion, close to completion, near Haverfordwest in North Pembrokeshire
Contact information

Seller: John Dyas

Phone: 07974565432

Fax: 01437779012

Email: banbeck@banbeck.co.uk

Web: www.banbeck.co.uk



return to Wales barn listings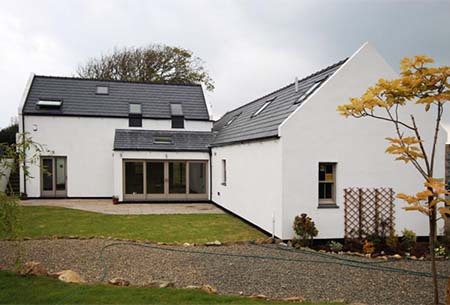 Five bedroom barn conversion set in 1.33 acres of land near the county town of Haverfordwest in North Pembrokeshire, with state of the art low carbon, energy efficient systems including ground source heat pump, solar panels and heat recovery unit
Price £850,000
Low carbon, energy efficient barn conversion.

Nearing completion, your chance to choose the finishes.

Possibly the most energy efficient barn in the UK. Super insulated, ground source heat pump with UFH. Solar panels. Nu-lok roofing ready for PV cells. Whole house ventilation with heat recovery. Water harvesting. Low maintenance self cleaning glazing. Large thermal store (external wall insulation).

5 bathrooms (3 ensuite), but due to the flexible layout there is the possibility of 3 to 9 bedrooms.

Separate 100m sq timber building and set in 1 1/3 acres of land.

Situated in rural North Pembrokeshire near Mathry, approx 3 miles from the Pembrokeshire Coastal Path and between the Cathedral city of St Davids and the Irish Ferry port of Fishguard, and 10 miles from the County Town of Haverfordwest for all the major shops.