barn frame
sold
near Fernhurst, Sussex
Oak barn frame without land dismantled and ready to be removed from present site
return to oak frame barns listings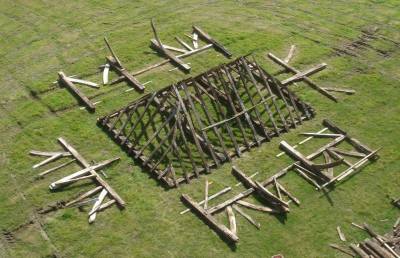 A 15th Century classical three-bay Sussex barn frame of oak construction, professionally dismantled with timbers individually numbered ready to be removed from present site in Sussex and reinstated on the buyers own land
SOLD
Cowfold Barn is a classical 15th Century barn which offers buyers the opportunity to create a historical and characterful property on their own land.

History

Originally stood as a granary on staddle stones (hence preserved from damp) at Hill Farm House, Cowfold, Sussex and is shown on John Speed's map of 1610.

It has been professionally dismantled and dry-stored. All timbers are individually numbered and supplied with scale drawings to assist re-erection.

Ancient oak replacement timbers (where necessary) are available subject to further negotiation.

The Barn

The barn is dated 1470 / 1480 and has three bays which measure a total of 31' x 20'.

When placed on a brick plinth there is ample space for a first floor.

The crown post roof is fully hipped, the principal posts have heavy jowels and the braces are all well curved. All of the beams and timbers are honey coloured period oak.

This is a very ancient, rare and high quality frame which would make a lovely two bedroom house or extension, among many other uses.

Location

At present the barn is located in West Sussex. A late medieval oak barn frame, repaired, dismantled and labelled ready for re-erection.