barn frame
sold
Dordogne, France
Oak barn frame without land to be dismantled and removed from present site
return to oak frame barns listings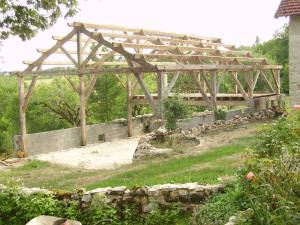 Rectangular barn frame of oak construction, pegged, bolted and numbered for ease of reconstruction, to be removed from present site in France and reinstated on the buyers own land
SOLD
The barn frame

A French barn frame of oak construction and in excellent condition.

The barn is rectangular in shape and measures 8 metres x 12 metres. It consists of eight huge posts (20cm x 20cm x 4 metre high), the rafters which are approx. 10cm x 25cm approx. and it also includes the trusses, stringers, crown posts, braces and roof purlin you would expect to find with four giant A frames.

The frame provides for two storeys with high ceilings and a useful roof space. There are endless possibilties for additions and modifications

The frame has been pegged, bolted and numbered, for ease of reconstruction. The barn is for sale without land and is to be removed and reinstated on the buyers own land.

Location

At present the barn is located in the Dordogne region of South-West France.

The vendor will dismantle and deliver if required for an additional fee.

Additional info

Price quoted is negotiable.

Please contact me by email preferably. Thank you.


French translation

Chêne grange à vendre, 8 mètres x 12 mètres, 2 étages, chevillé et boulonné et numéroté, sera de démolir et de livrer si nécessaire.

Excellent état. Rectangulaire. Il comprend de 8 poteaux 20cm x 20cm (4 mètres de hauteur), les chevrons sont 10cm x 25cm environ. En outre, les fermes, entraits, poinçons, contrefiches, Chantignoles, Panne Sablieres.

S'il vous plaît contacter via formulaire sur le site / email.