barn frame
sold
Waco, Texas, U.S.A.
Barn frame dating from c 1770, ready to stand on your location
return to oak frame barns listings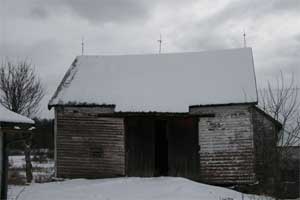 A barn frame, dating from c. 1770 which is ready to be removed from present site in Waco, USA and reassembled on the buyers own plot - a great piece of American history
SOLD

This early timber frame measures 26' x 37' and was originally built near the town of Mariaville, NY, USA circa 1770.

Scotch immigrants to colonial America built this barn with an unusual king-post and ridge beam design. It has large hand hewn timbers, as well as all hand hewn wind bracing and roof rafters. Marriage marks, Roman numerals carved into the timbers by the original builder, are clearly visible and were used to "marry" the parts of the barn together for the barn raising

This barn is ready to stand on your location.

The price includes complete restoration of the timbers and erection of the frame on your location. Shipping to be determined based on location.