barn frame
sold
near Pontivy, Brittany, France
Open frame chestnut barn without land to be dismantled and removed from present site
return to oak frame barns listings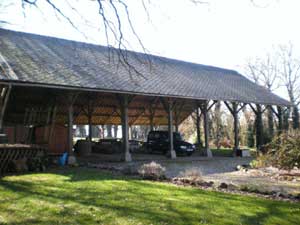 Chestnut frame of French barn with slate roof, to be dismantled and removed from present site in Brittany, about 90 minutes from the Channel port at Roscoff - ideal opportunity for someone with plot of land in the UK
SOLD

This open frame french barn is situated near Pontivy, Brittany, France (approx 1 1/2 hour drive from Roscoff, the nearest port)

The frame is made from chestnut, with a slate roof.

All dimensions are detailed on the attached CAD drawing.

Buyer to dismantle and remove. All timbers are numbered and pegged.