barn frame


sold


Southwold, Suffolk, East England
A timber frame barn, already dismantled and labelled and located near Southwold in Suffolk
return to Barn Frame listings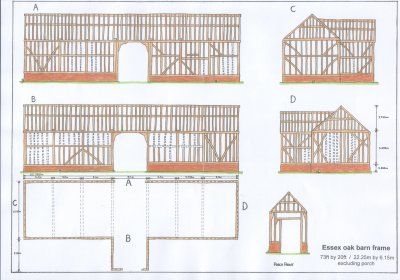 A timber frame barn of oak and elm construction arranged in seven bays with a central porch, located near Southwold in Suffolk and already dismantled and labelled ready to be removed by the buyer
SOLD


A rare opportunity to acquire a large historic timber barn frame dating from the late 1700s / early 1800s.

The barn was professionally dismantled from a site in Essex and has been carefully dry-stored since 2004. Mainly of oak but with some elm, all of the timbers are de-nailed and individually labelled and it is supplied with scale drawings to assist re-erection.

There are seven bays which measure a total of 73ft long by 20ft wide with a central porch extending a further 10ft on one side.

It is suitable for a range of uses and, when placed on a brick plinth, there is ample space for a first floor giving around 3,500 sq ft of useable space in total.