Victorian barn
sold
near Milton Keynes, Buckinghamshire
An unlisted timber frame barn, located near Milton Keynes in Buckinghamshire
return to Barn Frame listings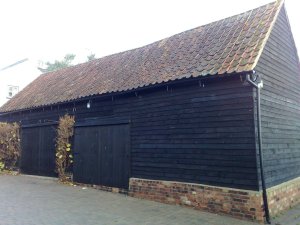 An unlisted Victorian timber frame barn of mostly elm construction arranged in one large and two smaller bays, located near Milton Keynes in Buckinghamshire and ready to be dismantled and removed by the buyer
SOLD


An unlisted Victorian barn located near Milton Keynes in Buckinghamshire which has been approved for removal under a new scheme development.

Over 100 years old this timber framed barn has been constructed mainly of elm and is ready to be dismantled and relocated by the buyer.

The dimensions of the barn are 5m x 13m. This is arranged in one large full height bay and two smaller bays with mezzanine. The walls are of timber and the roof is tiled.

The barn is in very good condition - it is used daily and is watertight.