timber frame of Suffolk barn
sold
near Sudbury, Suffolk
15th century timber frame of barn, to be dismantled and relocated, located near Sudbury in Suffolk
return to Barn Frame listings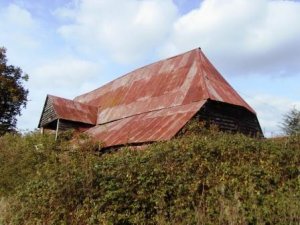 An unlisted timber frame barn dating to circa 1450, arranged in seven bays and of mostly oak construction, located on the outskirts of Sudbury in Suffolk and ready to be dismantled and removed by the buyer
SOLD

15th century timber-framed Suffolk barn (NOT listed), located on the outskirts of Sudbury in Suffolk.

The barn is a seven bay barn, part aisled and of mostly oak construction. It is believed to date to circa 1450.

Although storm damaged and collapsed, most of the roof structure is intact and the majority of the timber is sound having been protected by the corrugated tin roof.

There are 68 rafters of 20/21 ft. long measuring 5 x 4.5 inches. The vertical legs of the barn are 14 ft. 6 in. long and measure 9" x 9". There is a substantial amount of timber.

The barn floor area measures approximately 75 ft. long x 29 ft. wide. Two pictures are prior to the wind damage and the other two are as it is now.

This sale is for the barn timber structure and does NOT include the site. Payment in full is required within seven days by Banker's Draft or cheque. Final price will be plus V.A.T. Access to the site only after payment is received and cleared.

The dismantling and removal of the barn is the full / sole responsibility of the buyer who has 90 days to clear from the date of purchase. The barn is away from other buildings and is easily accessible for lorries and equipment.

Interested parties should apply to view and to see further Conditions of Sale.