North Scotland
(including The Highlands and Islands, Caithness, Sutherland, Inverness-shire, Aberdeenshire, Banffshire, Ross)
Partly converted steading for sale near Hatton, Aberdeenshire
Offers over £260,000
An opportunity to finish a barn which has planning permission for a five bedroom dwelling and has been partly converted to a stage where it is wind and watertight. The barn has a two acres of land including a paddock and is located near the village of Hatton, Aberdeenshire
details and more photos
Seven bedroom church conversion set on two acres of land near Elgin in Moray
Offers over £595,000
Seven bedroom church conversion half a mile from the village of Urquhart, near Elgin in the Highlands, currently being run as a successful four star B & B with a self catering apartment and with planning consent for three lodges in the beautiful, two acres of gardens which boast a pond and a waterfall
details and more photos
Barn For Conversion, Anywhere £250,000
Your property could be here! All properties listed are featured on the area home page for the North of Scotland and get their own unique web page too! Click here to get listed today!
Converted steading set in half an acre of land near Turriff, North Scotland
SOLD
A stone built steading conversion with spacious and flexible accommodation, set in over half an acre of land and conveniently situated half a mile from the hamlet of Garmond and just over six miles from the Aberdeenshire town of Turriff
details and more photos
A four bedroom converted steading with two bedroom annexe near Alford, Aberdeenshire
SOLD
A four bedroom stone and slate built steading with adjacent two bedroom annexe, double garage, workshop and games room, all set in an acre of land with panoramic views and located near the Aberdeenshire village of Alford
details and more photos
Unconverted steading with a renovated cottage near Buckie, Moray
SOLD
Unconverted stone built steading with full planning permission for conversion of one wing to a three bedroom property, two further wings which could be converted subject to planning and a renovated two bedroom cottage all set around a walled garden on an acre of land, near Buckie in Aberdeenshire
details and more photos
The Perfect Gift For A Barnie?
Self-Build And Design Magazine - The Next Twelve Issues Delivered To Your Door For Just £34.99
Building your own home, converting a current property or modernising an older dwelling is the perfect way to achieve the home of your dreams. SelfBuild & Design brings you expert advice, the latest products and inspirational case studies to help you make that dream home a reality. Subscribe to SelfBuild & Design today and get twelve issues for just £34.99! That's a saving of 31% off the usual cover price. Click here for full details.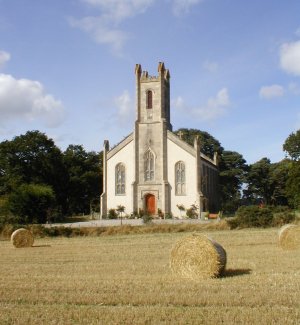 Seven bedroom church conversion set on two acres of land near Elgin in Moray
Offers over £595,000
Seven bedroom church conversion half a mile from the village of Urquhart, near Elgin in the Highlands, currently being run as a successful four star B & B with a self catering apartment and with planning consent for three lodges in the beautiful, two acres of gardens which boast a pond and a waterfall
details and more photos
barns for sale in England

East of England
(including Lincolnshire, East Anglia, Norfolk, Suffolk, Cambridgeshire)

East Midlands
(including Nottinghamshire, Derbyshire, Leicestershire, Rutland, Northamptonshire)



North East England
(including Durham, Tyneside, Humberside, Northumberland and Yorkshire)

North West England
(including Cumbria, Cheshire, Greater Manchester, Merseyside and Lancashire)

South of England
(including Kent, Oxfordshire, West Sussex, East Sussex, Greater London, Buckinghamshire, Hampshire, Hertfordshire, Isle Of Wight, Berkshire, Essex, Bedfordshire and Surrey)

West Midlands
(including Herefordshire, Staffordshire, Warwickshire, Shropshire, Birmingham and Worcestershire)

West Country
(including Devon, Cornwall, Dorset, Gloucestershire, Wiltshire and Somerset)



barns for sale in Ireland

Northern Ireland
Eire

barns for sale in Wales

Wales
(including Blaenau Gwent, Bridgend, Caerphilly, Cardiff, Carmarthenshire, Ceredigion, Conwy, Denbighshire, Flintshire, Gwynedd, Anglesey, Merthyr Tydfil, Monmouthshire, Neath, Port Talbot, Newport, Pembrokeshire, Powys, Rhondda Cynon Taff, Swansea, Torfaen, Vale of Glamorgan and Wrexham

barns for sale in Scotland



East Scotland
(including Edinburgh, East Lothian, West Lothian, Fife, Kinross, Kincardineshire, Angus, Clackmannanshire, Kinross-shire, Perthshire)

North Scotland
(including The Highlands and Islands, Moray, Caithness, Sutherland, Inverness-shire, Aberdeenshire, Banffshire, Nairnshire, Ross and Cromarty, Orkney and Shetland)

South Scotland
(including Dumfriesshire, Dumfries And Galloway, Kircudbrightshire, Wigtownshire, The Borders, Berwickshire, Roxburghshire, Selkirkshire, Peebleshire)

West Scotland
(including Glasgow, Strathclyde, Ayrshire, Lanarkshire, Renfrewshire, Stirlingshire, Dunbartonshire, Argyll and Bute)

unconverted barns

Unconverted barns
Barns for conversion

barn frames for sale

Frames
Barn frames for sale without land

barns for sale overseas

Abroad
(including France, Spain, Ireland, USA)

barns to let

Barns to let
Barn conversions for rent and to let

Selling a stone or timber framed barn?

List it on the UK's number one barn website for a flat fee of £89 until sold. Every property listed has its own unique webpage with up to five photos. Click here to add your barn today!

NEW! Search by county

Quick Reference Complete Barns For Sale List

Barns Etc home page