unconverted barns
for sale
Gaydon, near Leamington Spa, Warwickshire
A group of brick built barns with full planning permission for conversion in Gaydon, Warwickshire
Contact details

Seller: Mark Steeds

Phone: 07977 195374

Email: hazelmark@btconnect.com



return to West Midlands barn listings

return to Warwickshire barn listings

A development opportunity comprising of a group of Grade II listed brick built barns with full planning permission and listed building consents for conversion to six / seven residential units, all set in 0.7 acres of land in the Warwickshire village of Gaydon
Offers over £750,000
An ideal development opportunity, comprising of a group of Grade II listed mid-Victorian red brick barns (including a beautiful and substantial classic threshing barn) all with planning permission for conversion.

The barns are located on the southern edge of the village of Gaydon in Warwickshire.

Planning permission

Full planning and listed building consents have been obtained for conversion of the five barns into six residential units, with the potential for sub-dividing the large barn if deemed preferable, to give seven units.

The site provides the opportunity for an interesting development, or possible single family / community project.

Location

The barns have southerly views towards historic Edgehill and are found on the end plot on a road that boasts mainly high quality detached housing.

The village, though small, has a picturesque centre, and offers two pubs, a filling station and shop.

The site is conveniently located adjacent to a B-road which connects with the M40 motorway just one mile away, putting West London at little over an hour's drive away, and South Birmingham half-an-hour.

Other towns close by include Stratford-on-Avon, stylish Leamington Spa, and the county town of Warwick.

The site

The courtyard style layout runs to 0.7 acres, with built area under the current planning approval being around 9,000 sq.ft. (Approval exists for the central unit to be substantially altered and extended, with the addition of a second floor, creating two well proportioned family homes).

Each unit has private garden space and parking / car ports allocated, but there is no potential for additional land purchase.

We would therefore expect the site to appeal to business professionals who perhaps commute to work, especially with the proximity of both the Jaguar / Land Rover and Aston Martin headquarters (a couple of miles away).

Services

Mains services are conveniently located at the roadside, except for gas which is not currently available in the village.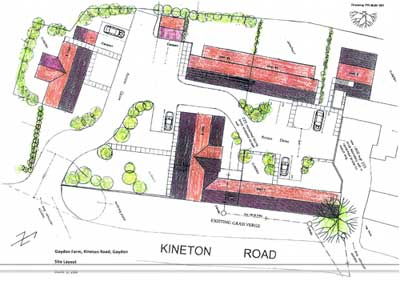 Site overview