unconverted barn and ancient house
withdrawn
near St. Céré, Midi-Pyrenées, France
Barn for conversion and ancient house near St. Céré in South West France
return to French barns listings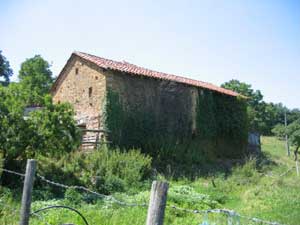 A stone built barn and an attached ancient house, set on the hillside overlooking the medieval town of St. Céré in the Midi-Pyrenées in South West of France
Offers in the region of 150,000 Euros
withdrawn from market
Barn and ancient house for conversion in the Lot department (46), Midi-Pyrenées, France.

It is understood that change of use to habitation will be granted.

Location

The property is set on a quiet, narrow lane a few minutes drive from town. It has a commanding position on a forested hillside and overlooks the medieval town of St. Céré offering spectacular views of the valley and the Chateau de Saint-Laurent-les-Tours that dominates the town.

The Property

The property comprises of an east facing stone barn with adjacent small house set at right angles to it.

The house has been used as a barn for more than a decade, its upper floor removed, and a large opening formed in one wall (temporarily sealed with panelling).

A fenil (hayloft) with a tiled, pitched roof juts from the rear roof of the barn, supported on oak posts, in the angle between barn and house.

The barn, built on sloping ground, is accessed from higher ground level beneath the hayloft. The lower level is accessed from lower ground level. Original features include a cantou (traditional fireplace) and a souillarde (stone sink).

The barn features distinctive crossed rafters particular to the region, and its roof comprises canal tiles laid on profiled undersheeting; the house has canal tiles, the hayloft modern clay tiles.

Attached to the barn are two breezeblock outbuildings.

Land

Approximately 2,500m2 sloping plot bordered on two sides by a quiet lane and enclosed on the road boundary by agricultural fencing.

Services

No electricity, but there is a connection in the adjoining field.

Ample space for septic tank.

The property is served by a spring fed water supply, fit for consumption. A bulk cistern is located in adjoining land.