barn conversions
for sale
near Newbridge, North Gwent
Two barn conversions, available as one lot or two separate lots, near Newbridge in North Gwent
Contact information

Seller: Richard James

Phone: 07710307315

E-mail: Roger.james@execujet.eu





return to Wales barn listings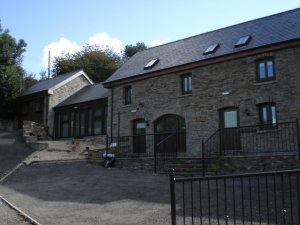 Two barn conversions, one with four / five bedrooms and the other with three bedrooms both with original features and fantastic view over the Cefn Bychan Valley and located close to Newbridge in Gwent with good road access via the nearby M4
Price £420,000 and £325,000
Two converted barns, available for sale independently or together. These two properties were refurbished to a high standard three years ago, for commercial usage. They provide a great opportunity for residential or commercial (office type) use.

There is plenty of parking space and potential to build another garage type building on site.

Location

The barns have a private drive entrance that is shared with one other property, set off a quiet mountain road. They overlook the Cefn Bychan Valley.

They are located just off the A467, close to Newbridge in Gwent, and just 15 minutes from Junction 28 on the M4.

Barn One

This well presented barn has four / five bedrooms, lounge, dining area, kitchen, downstairs shower / utility room, a large conservatory and a double garage that is currently used as office space.

Wonderfully kept gounds and surrounding garden area.

All original stonework and oak used throughout.

Offers in the region of £420,000.

Barn Two

The single storey / spilt level smaller barn consists of three bedrooms, kitchen, dining area and a lower level lounge with high ceilings.

There are fantastic unrestricted views out over the valley in this quiet, peaceful area.

Offers in the region of £325k


They were recently valued at a combined total of £850k. Seller would consider an offer for the two units.