unconverted barns
for sale
near Newport, North Pembrokeshire, Wales
Five bedroom farmhouse with a range of barns for conversion near Newport in North Pembrokeshire
Contact information

Seller: Sian Roberts or Ray

Phone: 01443 684844

Mobile: 07866884248

Fax: 01443 684847

E-mail: ray@rahullandgroup.co.uk



return to Wales barn listings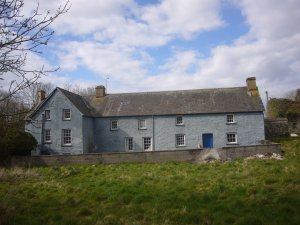 Historic 16th century, five bedroom farmhouse with many original features and a range of natural stone and slate outbuildings with planning permission for conversion, close to the North Pembrokeshire National Park and the town of Newport - to be sold individually or as a package
Price - various (see below)
Farmhouse SOLD
Only one barn now remaining

A historic 16th century five bedroomed former manor / farmhouse and a range of natural stone and slate outbuildings in a courtyard setting - to be sold individually or as a package.

The house itself is set in parkland and walled gardens of approximately 1.5 acres and is approached via a tree lined driveway leading off the main district road.

The house and barns overlook the Preseli hills and are within close proximity to the stunningly beautiful natural park coastline of North Pembrokeshire and the picturesque town of Newport.

The house is in it's original state, retaining features such as flagstone floors, inglenooks, beams, cast iron breadoven and an oak stairway leading to the upper floors. It is ideal for sympathetic restoration and improvements to one's individual design and taste. Secluded and private yet only minutes from a busy village.

The house needs sympathetic restoration and the surrounding barns have six individual planning consents for residential conversation.

Prices

The barns price range £150,000 - £295,000.

Remaining barn

The long barn can either be developed as one unit, or up to a maximum of four. There is full planning and listed building consent for these options.

LONG BARN FOOTPRINT AREAS - as follows:

UNIT 1: ground floor 1258 sq ft, first floor 693 sq ft
UNIT 2 ground floor 1033 sq ft, first floor 707 sq ft
UNIT 3 ground floor 1278 sq ft, first floor 875 sq ft
UNIT ground floor 1712 sq ft, first floor 1259 sq ft
Total area of all units = 8815 sq ft

Services

A new large bore water main has been installed from a Welsh Water main supply which runs in the district road, directly to a distribution point. This provides a high pressure supply to all the properties on the Plas Whitchurch development site.

Water, electric and telephone and broadband cable duct is connected to each property in readiness for the service provider to connect to a meter outside each unit, or alternatively, the barn can be developed into a substantial unique family residence.

Plans and Drawings

All architects plans and drawings to a scale of 1:50 and 1:100 together with a site plan showing the development as a whole.

A 1:200 plan available for each individual unit listed above.

Available to serious enquires on receipt of a cheque for £7.50 per unit required.